RUSS GREEN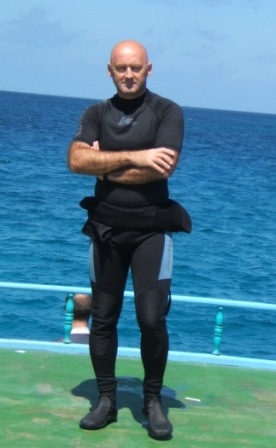 Russ Green is the in-house PADI Dive Instructor of Giddy's Place Dive Resort.
"My interest in the aquatic world was first sparked in my early years. Like many people, I watched with fascination the travels and adventures of Jacques Cousteau. Dreaming that one day too, I would be able to explore this wonderful world.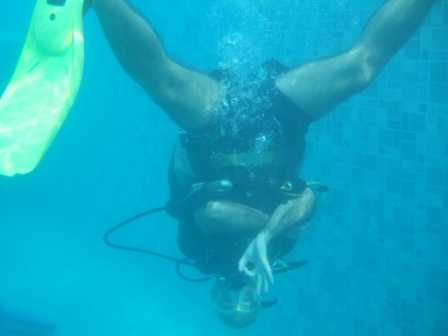 "Having enjoyed numerous 'try dives' on holidays around the world, about 10 years ago, I finally decided to complete my Open Water course. From that day diving took over my life, and I dived where ever and when ever I could.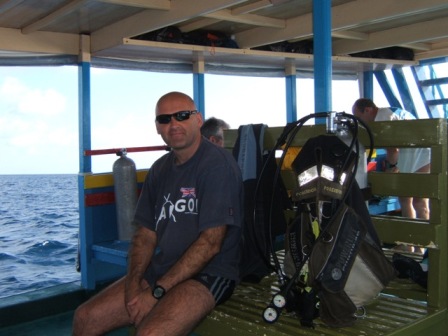 "Very early in my diving adventures, I became involved with my local dive school, Tigerdive in Sheffield. I consider them the friendliest and most professional dive centre in the UK, and certainly the biggest influence on my diving career. It is with their help and encouragement I am where I am today.
"I can still remember the dive when I decided I had to become an instructor, and teach people so they could see the wonders that I have. It was a gentle drift along Woodhouse reef in Egypt. Over 6 years ago, I achieved this ambition and qualified as a PADI Open Water Scuba Instructor.
"My professional diving career has taken me to some amazing places, and I've seen many breathtaking things. Many of my former students are close friends and regular dive buddies. I've expanded my experience by working as an instructor/ dive guide for 3 dive centres in the UK, and was lucky enough to work in the same role in Egypt, before coming to the Philippines. Throughout this time I have continued with my dive education, and I am now qualified as a PADI IDC Staff Instructor. Along with this I can also teach EFR courses and 15 PADI specialities, including; Enriched Air Nitrox, Deep, Drift, Boat, and Peak Performance Buoyancy.
"My role now I have been fortunate enough to come to Giddy's will not only be teaching and guiding, will be to expand my career again into dive centre management. When I pleasure dive, my main love has always been for sharks and rays. Closely followed by the tiny "critters" such as Nudibranches, Seahorses, Pipefish, and the tiny creatures that are such a challenge, but so rewarding to find. But just the feeling of being underwater, and the amazing world there, is the only excuse I need to dive."

Contact us if you are interested.